This week I created a shoe-lover's dream! A shoe… cake!
When a return customer contacted me to order a cake for his wife, I was thrilled because, as I told him, I love making grown-up girl celebration cakes! He then told me about his wife's love for shoes and I knew this would be a fun one.
I had just one week prior seen an amazing magnetic shoe mold via a YouTube video and had to pull my finger away from the purchase button about three times, reminding myself that I had no immediate use for it. Side note: does anyone else find humor in the fact that I had to use self control not to buy a shoe mold?? That is a true cake decorator for you! I will count my husband lucky (and we won't discuss my handbag addiction). 😉
Anyway, I immediately jumped back online and grabbed the shoe mold that had been my heart's desire. When it arrived, I eagerly sliced open the box and ran downstairs to my bakery, and it only took me one wasted try before I found success!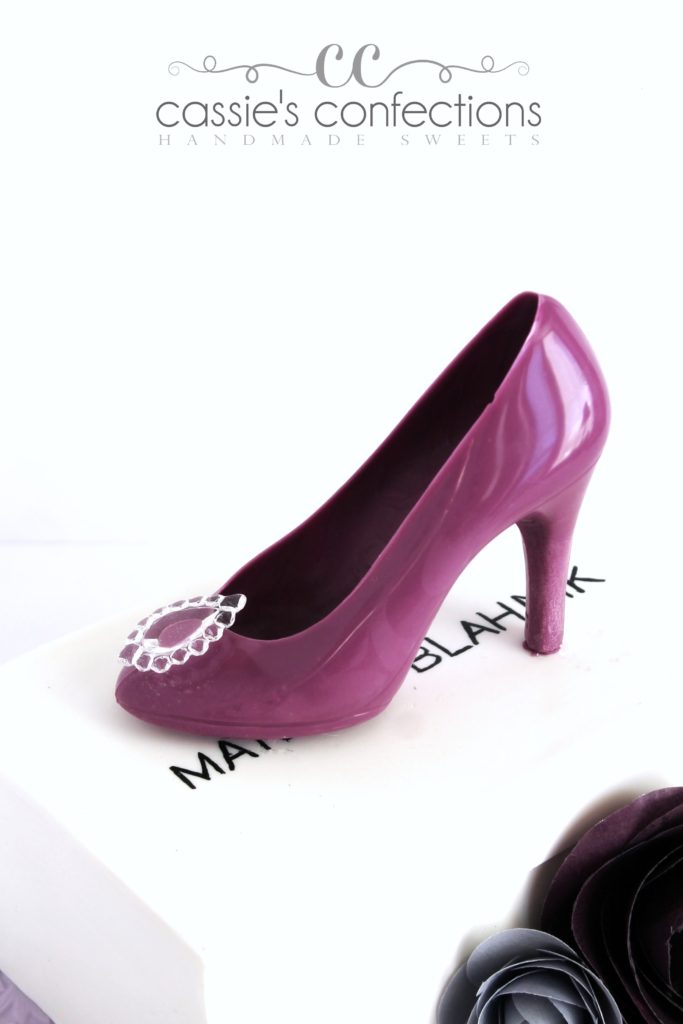 Isn't that a seriously gorgeous, shiny, smooth piece of chocolate "designer" footwear? I added the edible jewel for more wow, and I'm really not sure if I wanted to eat it or wear it! Hopefully my customer felt conflicted in the same way.
I then created a "shoebox" cake in a similar manner to how I created last week's chocolate box cake (you can watch the video here), but with modeling chocolate since my customer is not the biggest fan of fondant. I did a 50/50 mixture of modeling chocolate and fondant only for the top panel in order to be able to paint the logo on the top (food coloring beads up on modeling chocolate).
I used the fabulous wafer paper rose tutorial from Cakeheads.com to add a beautiful detail next to the shoe box. I printed my wafer paper two shades of purple using my edible printer.
I put the cake on a textured fondant cake board and was done!
This cake made my eyes happy!
Tools used in this project:
Classes you might enjoy:
https://cassiesconfections.com/wp-content/uploads/2017/02/shoe-683x1024.jpg
1024
683
cassieunruh
https://cassiesconfections.com/wp-content/uploads/2019/09/CC-Logo01.png
cassieunruh
2017-02-07 05:00:47
2019-10-03 16:29:52
A High-Heeled Shoe Cake